Value Chain Knowledge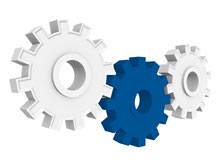 The NZ Distribution team has a comprehensive understudying of Outsourced Supply Chains, but also recognises the importance of 3PL placement within our customer's internal Value Chain. This aspect of innovation is critical to a well oiled supply chain because it gives us perspective on where our operation is placed relative to our customers overall business.
Third Party Logistics and Supply Chain management is our speciality but in most cases it is not our customers core focus. With this in mind we strive to understand our customers' wider business activities to give us a better view of how we can improve their overall Value Chain. This gives us insight into how our operation impacts on other areas of the Value Chain (marketing, manufacturing, sales etc) and how we as a 3rd party operator can add real value to our customers business.
For more information on how NZ Distribution can assist your business in building a quality supply chain that complements existing business activity, please click here to contact us.